I have started this BLOG so many times and deleted just as much. Just trying to get it right, something very easy to understand and also reading material that will make you want to learn more on your own. It's so easy just to read something and take it as the truth. I can tell ya, a lot of what's online isn't the truth so you REALLY need to do your own RESEARCH with a discerning spirit.
So, anyway, what I want to do is give you some researchers names and hopefully I'll have a good lists of videos, PDFs and sites to go to so you can get a well rounded view of what is going on in the crazy ass world we live in. It's crazy isn't it? When you were a kid, did you ever think you'd be researching the safest food to eat, what medications NOT to take, how our political system all came about and WOW, religion? Religion is a good one, do some research on that some day! You will blow your mind! To think that those beautiful Royal weddings we've all watched are really a satanic ritual....hmmm.
So, the first person I've decided to tell you about is SVALI, she's a woman that claims to be an ex-member of the Illuminati, and she has one amazing story where she shares some very personal experiences and her views on the Secret Society, The Illuminati. So to get an idea who the ILLUMINATI is, here is a reprint of Svali's article Published on October 6, 2000 and is now archived in the wayback machine (internet archive). It's imperative to read this for a better understanding (in my opinion).
[Editor's note]
Warning
: this part contains some graphic descriptions of assassin training and brutal torture perpetrated on children by
the Illuminati
.
The European Roots of the Illuminati
The Illuminati: How the Cult Programs People by
Svali
Secret Vatican Catacombs, Child Sacrifices & Mind Control
Born Into The Illuminati, A Friend Fears For Svali's Safety As She Has Come Up Missing 2006 interview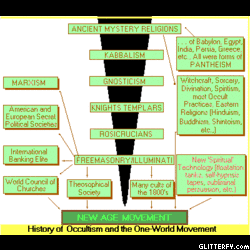 Glitterfy.com - Photo Flipbooks
When it come to anything Illuminati, I am ALWAYS researching and learning something new.. I happened across this awesome website where A senior member of the Illuminati that is part of the 12 Man Ruling Council breaks his silence for the first time
It's pretty interesting. The entire website in fact is VERY INTERESTING and has loads of fantastic reading material ... ALL THAT YOU NEED IS TO BE ABLE TO DISCERN AND RESEARCH! I can't say it enough. I found the website very informative and am still in my own phase of researching what I have read and am still reading. It's a lot to dissect.
Honestly I am exhausted doing this BLOG on the Illuminati! Every link, photo, and video I've given you, I've had to read and reread and I'm sure I'll be up late tonight checking out even more information. You can never, ever learn too much when it comes to secret societies, especially the Illuminati! Finally, I've gotten you a pretty good list of sites and researchers to look up on your own. If you have ANY good info you'de like to share please leave me an email or post a comment.
To make your journey even more interesting, here is the link with loads of sites to visit for FREE EBooks, PDF files and a good list of Conspiracy Theorists. Visit Illuminati EBooks and Authors Lists & Illuminati Video links I hope you enjoy your journey into the BIG SECRET!
FAIR USE NOTICE: These pages/video may contain copyrighted (© ) material the use of which has not always been specifically authorized by the copyright owner. Such material is made available to advance understanding of ecological, POLITICAL, HUMAN RIGHTS, economic, DEMOCRACY, scientific, MORAL, ETHICAL, and SOCIAL JUSTICE ISSUES, etc. It is believed that this constitutes a 'fair use' of any such copyrighted material as provided for in section 107 of the US Copyright Law. In accordance with Title 17 U.S.C. Section 107, this material is distributed without profit to those who have expressed a prior general interest in receiving similar information for research and educational purposes. For more information go to: http://www.law.cornell.edu/uscode